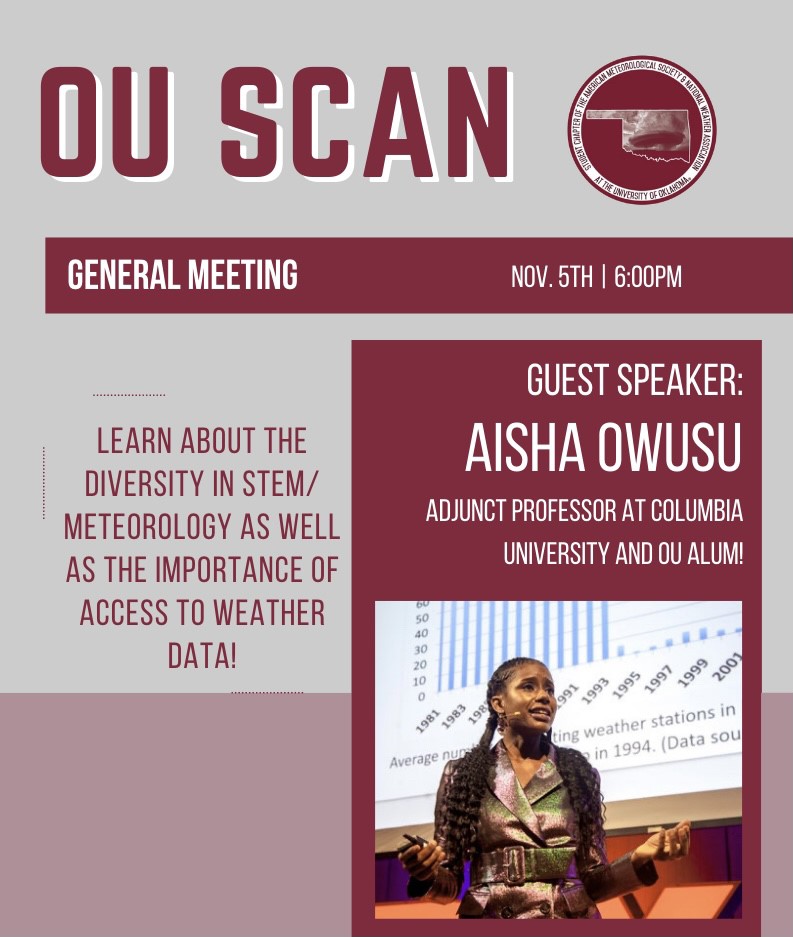 Aisha Owusu, an adjunct professor at Columbia University and OU Alumni gives a presentation on the importance of diversity in STEM and Meteorology as well as its importance to weather data access. Owusu began her career following graduation at Weather News in Norman. While working within the private sector, she became interested in rerouting cargo ships due to weather to save fuel as a result of the 2008 financial crisis. She continued to pursue jobs under almost every area in Meteorology and Climatology including working with the World Health Organization. Owusu explains that the definition of diversity accepted by many does not represent the thoughts of all communities as there are many that remain marginalized. Diversity also does not rely on an individual, she explains that it takes an entire community of differences to create a diverse atmosphere. In STEM, science is not talent, it is created by training and diverse teams of people. Owusu also talks about that in STEM a significant number of communities are under-represented due to economic and social issues stacked against them. Weather Data is not just about what is on TV, thousands of scientists across the globe use the data to provide valuable data to the public. Owusu explains that Climate Science is a service, the data that scientists collect and produce is important to all people. While in the United States weather and climate data is freely available in the developed world, many other countries do not have public organizations that distribute data. In many African Countries, data is limited or in-existent. Not only do governments limit or charge for the use of climate data, many areas have no infrastructure to support the collection of data. Some countries that do have climate agencies are forced to fundraise themselves meaning that high prices are charged for access to the data.
Owusu worked 5 years in Africa to improve many of these issues by giving and training parts of Africa. By increasing the need for accurate data, some governments are forced to increase funding to obtain reliable weather data.
Hurricane Fundraiser continues! You can make one up by completing a FEMA course, feel free to ask an officer for more details. An additional social event will be coming later in the semester, more details to come!