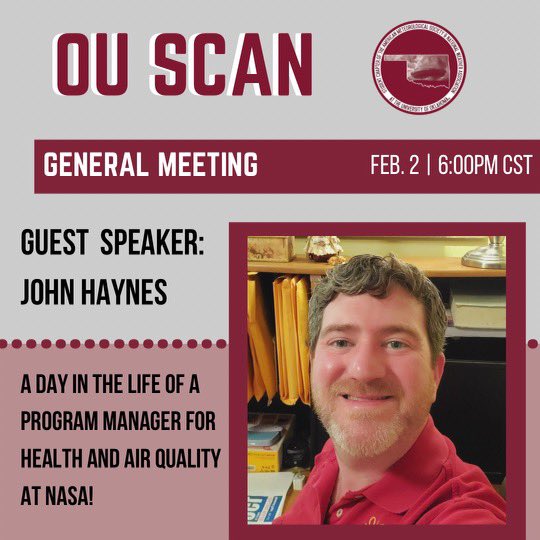 Announcements:
Welcome back! We will be continuing with virtual meetings and social events, several which are upcoming:
-OU Big Event: Details will follow as they become available.
-Virtual Social Event with Cornell University
-April General Elections: Any active member is welcome and encouraged to run for positions! Those running for President or Vice President must be a board member for the 20-21 school year.
Guest Speaker:
John Haynes is the Program Manager for Health and Air Quality at the National Aeronautics and Space Administration (NASA). As part of the Applied Sciences Program within NASA, Haynes uses the data from Satellites in order to provide local health departments with resources to fight re-emerging diseases across the globe. Recently he has worked with the South Dakota Department of Health to provide the public with information regarding West Nile Virus using climate satellites. In addition to using climate information to provide data regarding diseases, Haynes has been measuring changes in Air Quality due to COVID-19. He also explains that while his career initially represented what many expect meteorology to represent, there are many opportunities for meteorologists to be successful in interdisciplinary fields like the Health and Air Quality at NASA. In addition, students are encouraged to check out the Applied Sciences Program with the following links:
https://develop.larc.nasa.gov/about.php
https://appliedsciences.nasa.gov/sites/default/files/2020-12/NASA_Handout_Resources_NOV2020.pdf