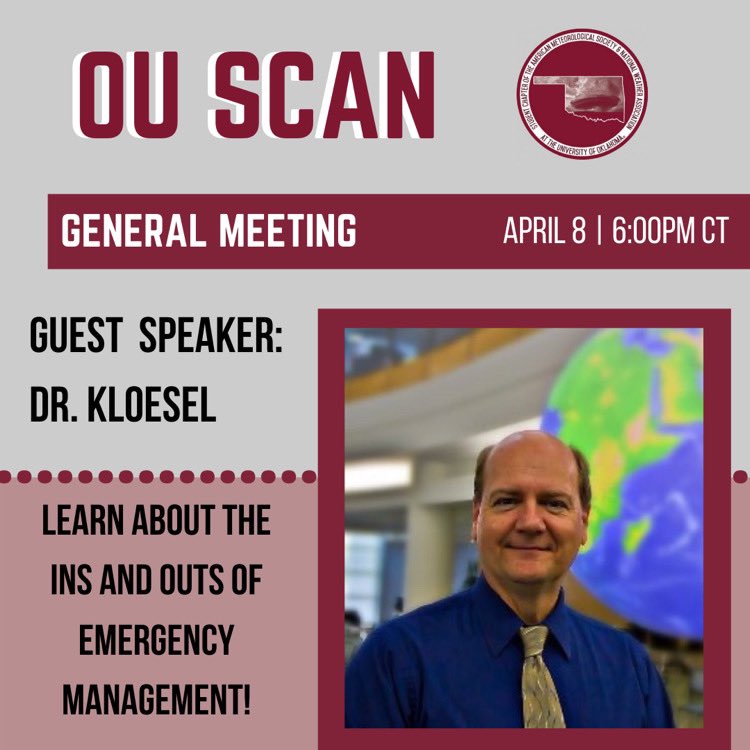 The OU SCAN April General Meeting was an eventful meeting with multiple different agenda items. The two major items include the results of the OU SCAN 2021-2022 Officer Board Elections and a talk by Dr. Kevin Kloesel about the ins and outs of emergency management.
The attendance record of the meeting can be found in the OU SCAN Master List 2020-2021. No record of attendance should be located in the meeting minutes.
With that said, the results of the elections are as follows for the Spring elected positions. They are:
President: Leia Otterstatter
Vice-President: Tie
Secretary: Preston Roesslet
Treasurer: Hunter Martinez-Buehrer
Publicist: Peyton Galyean
Senior Class Representative: Ben Kassel
Junior Class Representative: Joseph Rotondo
Sophomore Class Representative: Savannah Southward
We are honored to have a new incoming board of OU SCAN members to lead OU SCAN into the future as this year's board prepares to leave office in May.
With that said, the rest of the meeting was Dr. Kevin Kloesel discussing the ins and outs of emergency management. Dr. Kloesel does teach the Applications of Weather Forecasting class in the Spring Semester here at the OU. He discusses the challenges of emergency management and how the public can sometimes be very unprepared for different hazards even with plenty of information warning of certain hazards. Many people do not follow the guidelines for what they should do when dealing with weather. Situational awareness is very important, but sometimes using technology too much can hinder situational awareness and become a problem. It is important to be aware of what the emergency plans are wherever you are. As meteorologists, we are meant to lead by example of knowing what to do in situations for various hazardous situations in order to keep people safe. It is okay to ask people/businesses what their plans are in order to learn and help teach the importance of emergency plans and situational awareness. It is also very important to be realistic when discussing the dangers of weather, and it is better to discuss the real dangers than to try and be cute and have rhyming catchphrases.
The complete meeting and discussion by Dr. Kloesel can be found on our OU SCAN YouTube channel in case you missed the meeting and are curious.