February Officer's Meeting
5 February 2019
Dr. Reed Timmer is officially set for next Tuesday's general meeting. He'll be driving down from Wichita that afternoon to come to Norman. As long as we tag him on socials he will retweet/share. We have $500 per money order from OU SGA, which if we don't spend all on pizza will be put back into our account. $999.54 cents in the bank currently, $380 in the cash bag (made about $300 at Groundhog Day excluding cash). We should get enough drinks to carry us through the semester with the remainder of the money we don't spend on pizza. The Sooner Legends bill is $800 roughly, meaning we'll basically break even/ be slightly under since we didn't meet our body count quota. We'll make money when we take in dues this semester/what we charge for the Reed Timmer meeting. Everything from here on out will be shear profit for us. We are sticking with $7 for single person admission for this one meeting to go to the meeting and eat the pizza/drink soda.You have to pay to go to the meeting regardless of if you eat or not. It will be $15 for the semester. For 2 slices for about 70 people about 20 pizzas and 3 slices 29 pizzas, for 2 slices for 100 people about 27 pizzas and 3 slices 40 pizzas. Salad is also added to the food list for those with gluten or dairy allergies. We'll be ordering 5 cheese, 5 pepperoni, 5 sausage, 5 veggie (no meat supreme) pizzas will be ordered. Tyler and Aspen will be going to Sam's Club to buy a large salad and soda packs. Nash will record the meeting and putting it on SCAN youtube. We will have two entryways to 1313 set up as different types of payment (year long member line, and general admission/new member line) with signs to direct people where to go. Max will cover merchandise before the meeting too (at a third table in back of 1313). We will be using tickets to make sure people paid, Sam and Katie will man the pizza tickets ahead of the food table. Aspen will be buying more card readers (squares) to make this entire thing go smoothly, also since our square is broken currently. Nash also needs to send out an RSVP type thing so we know if we under ordered the pizza. Be sure to advertise that the doors close at 7pm for non-OU students. Drivers license required/form of ID for non students as well. Jordan will be talking to security to make this easier for the front desk. Emily will be stationed near the security desk to make sure people go where they need to go. 6:30pm is the food time, 7pm is when Reed's speech will begin. Nash will push out the flyer tonight, and every day from here on out. An email will be sent to the whole school, as well as advertised on the SoM screens. Officers be there around 6pm to set up. No February social event, but we'll have a prep workshop at the end of February for the career fair. Food and drinks won't be provided. March meeting we are trying to get a NASA guy, updates to come. March's social event could apply the general meeting before or after spring break, on March 29th. Voting: take off the clause in the constitution to donate additional funds at end of year to a charity. Two have abstained, and ten are for, with zero against, the vote passes.
New Semester Announcement
Our organization's year began with the student chapter poster presentation at The American Meteorological Society's 99th annual conference in Phoenix, Arizona. The conference is the world's largest yearly gathering for the weather, water, and climate community. This year, our poster featured a Star Wars theme and outlined the various achievements and activities OU SCAN has been involved with this year.
Our first social event of the year kicks off with our chapter's annual Groundhogs Day Party on January 31st! Details will be announced soon!
January Officer Meeting
January 15, 2018
Groundhog Day is coming up! The meeting is Thursday January 31st at 7pm at either Sooner Legends or the Brewhouse. A cost break down will be completed by the board at the end of this week to decide venue and food options. Typically there will be wristbands broken down between members that are of drinking age and members that are not, both split into different prices available for purchase at the door. It is also important to note that anyone with alcohol will be monitored carefully and urged to enjoy themselves at moderation. DJ and Karaoke is being planned as well.         
Our first general meeting of the semester is expected to be Reed Timmer! It is scheduled for February 12th at 7pm with food being served starting at 6:30pm. Any nonmember who wants to come for only this meeting can pay $7 at the door for general admission, or $15 for the rest of the semester. Pizza Hut and drinks will be provided with your pay stub. There will be two different tables for these different entry options so watch the signs when you arrive.
The career fair is March 1st where we will be hosting a resume workshop prior to the fair.
Lastly, March's general meeting (March 12th) is going to be an astronomy/space weather themed meeting. Jordan will talk to one of his NASA connections to find speakers for this topic.
All officer meetings will be the first Tuesday of each month as usual. April our last general meeting of the semester will be April 9th. The last meeting topic would be possibly tropical meteorology.
A social event will be scheduled for the end of February as well, possibly a star gazing night on the observation deck, or a bon fire.
November General Meeting – Winter Weather Workshop
November 13, 2018
By Publicist Nash Rhodes
OU SCAN's Winter Weather Workshop was a resounding success! Lead by Dr. Steven Cavallo, the meeting gave valuable insight into the various hurdles winter forecasting has offer. You can review the lecture slides from Dr. Cavallo here: http://arctic.som.ou.edu/scavallo/pres/cavallo_ouscan_nov2018.pdf
Our chapter will meet once again this semester to take the edge off exam preparations with a Christmas movie watch party. With food, drinks, and Christmas cheer being provided for free, we hope to see you all there!
October Social Event – Glow Bowling
October 28, 2018
By Publicist Nash Rhodes
OU SCAN's Glow Bowling event was a resounding success! Friday night featured an incredible turnout, great competition, and laughs all around. This was our organization's second social event following the Oklahoma vs Iowa State football watch party in September. November brings a new round of meetings and events so be sure to click our Events tab above to stay up to date!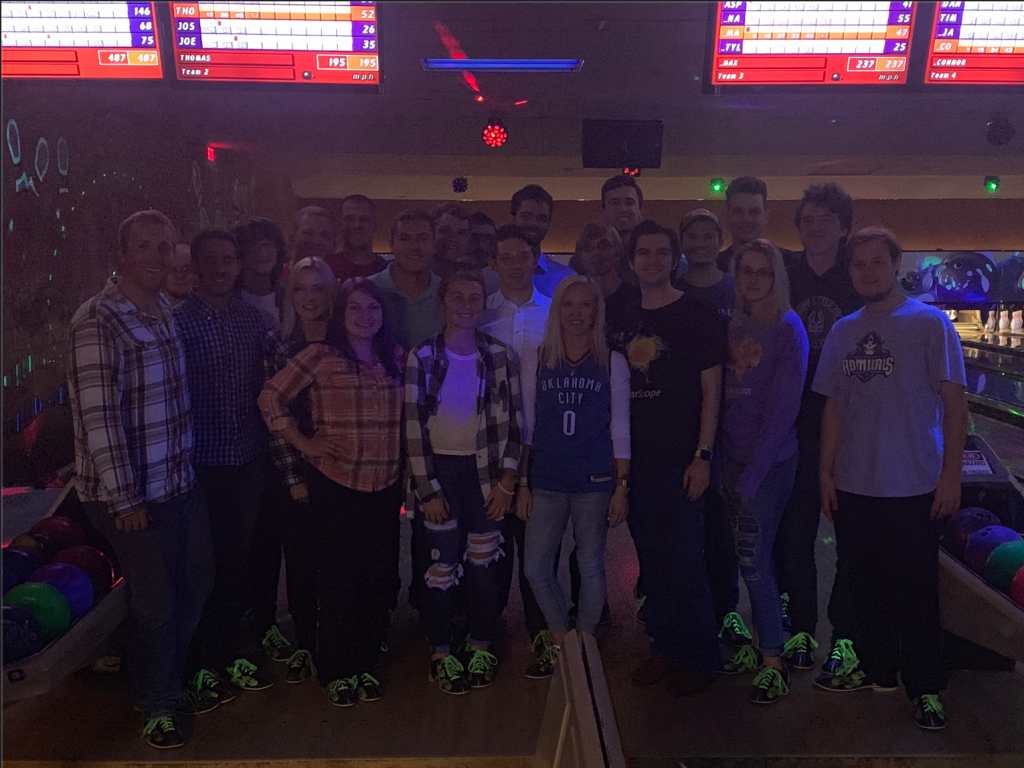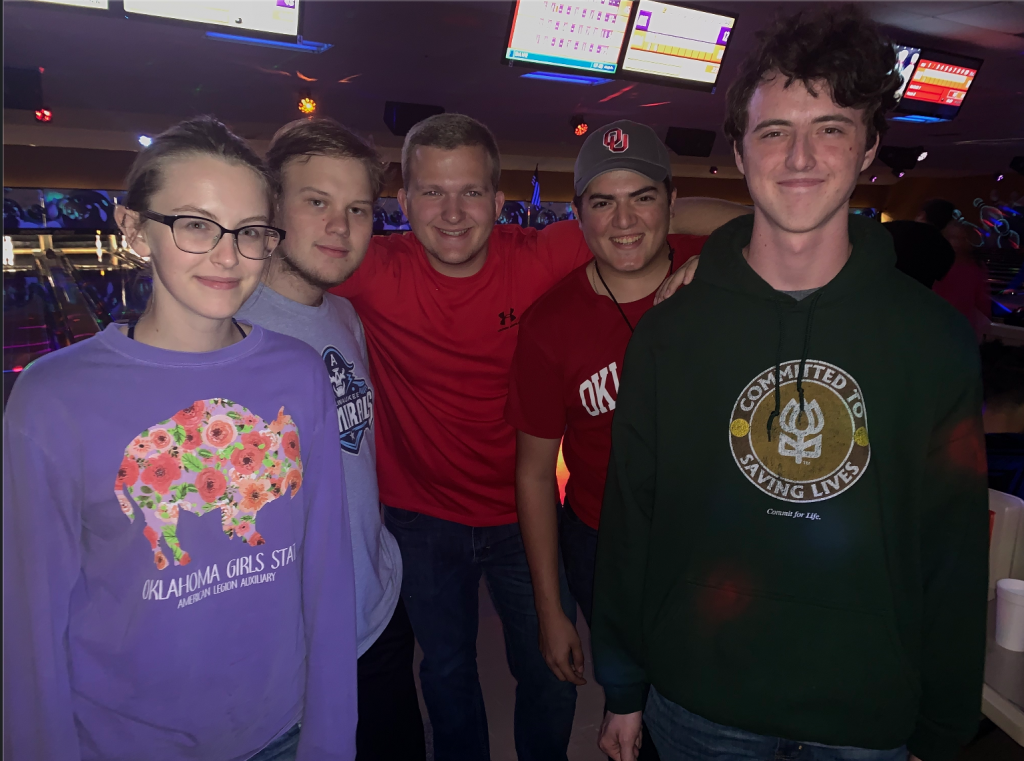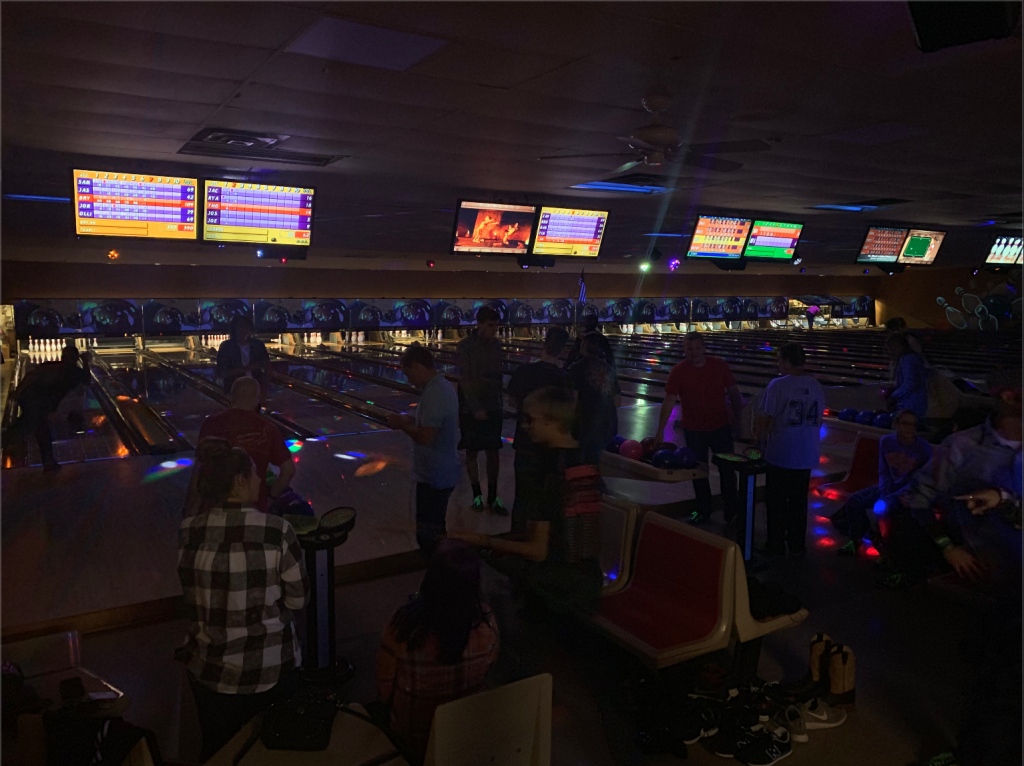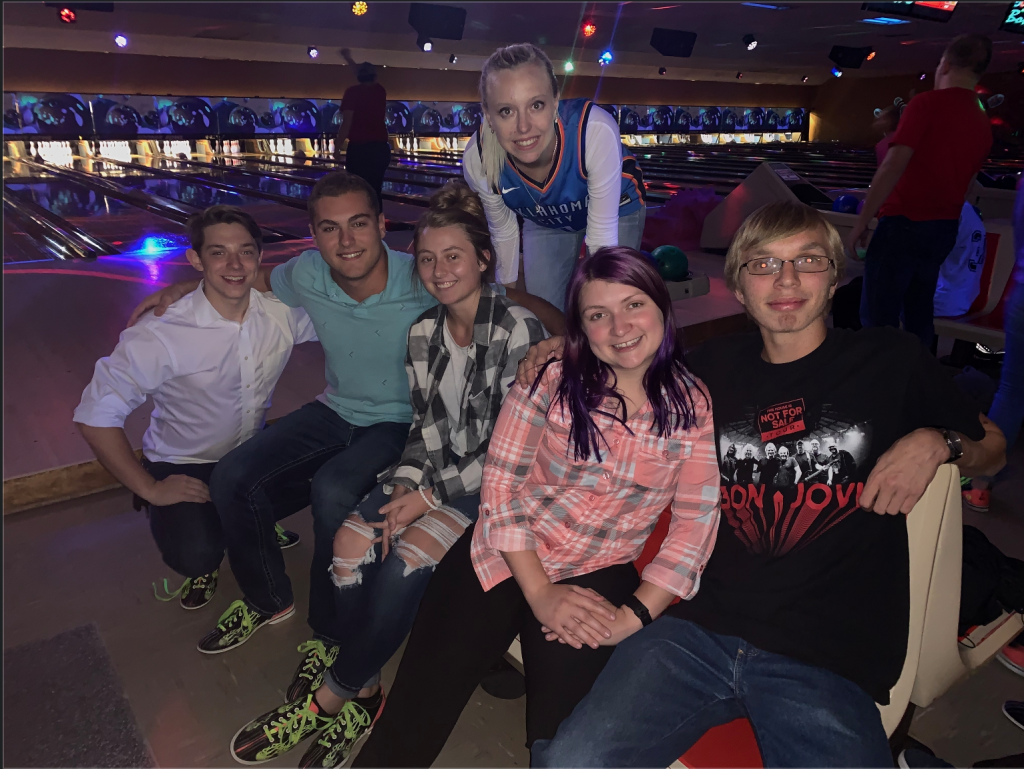 October General Meeting Minutes
October 9, 2018
Rich Murnan, Charles Kuster, and Terry Schuur gave us their expertise on radar and the work that goes behind it. Each came from different areas of radar meteorology, which brought many different takes on the topic discussed. They discussed phased array radars, the difficulty with long scan times, projects they've worked on, dual polarization data quality, NEXRAD radars versus broadcast media radars, and successes. Rich's closing statements highlighted the importance of sticking with our hard classes and applying for NWS internships, as the experience after college will place us ahead of the rest. Also, Rich emphasized to apply for the Hollings Scholarships from NOAA. With his closing remarks, Terry encouraged us to take classes in other disciplines at OU because meteorology is a very cross-disciplinary field, and having expertise in other areas will greatly assist with research. Terry also advised that we get involved in research and student organizations, as well as learn how to program. Charles suggests that we all get to know as many people in the National Weather Center as possible, as other people's perspectives help to strengthen our research and inspire new projects. This concludes our October general meeting.
OU SCAN Becomes NOAA Weather-Ready Nation Ambassador™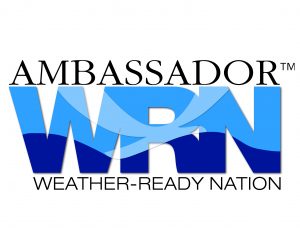 July 19, 2018
OU SCAN is proud to announce that we've been accepted as an NOAA (National Oceanic and Atmospheric Administration) Weather-Ready Nation Ambassador™.
The Weather-Ready Nation Ambassador initiative is an effort to formally recognize NOAA partners who are improving the nation's readiness against extreme weather, water, and climate events. As a Weather-Ready Nation Ambassador, OU SCAN is committing to work with NOAA and other Ambassadors to strengthen national resilience against extreme weather.
As an Ambassador, OU SCAN will serve as change agents and leaders within its organization. We will inspire others to be better informed and prepared, thus helping to minimize, mitigate, or avoid the impacts of natural disasters. WRN Ambassadors can encourage these changes in their organization in a number of ways, including:
Setting an example by becoming "weather-ready" yourself (e.g., making employee preparedness a priority and having a disaster plan);
Promoting Weather-Ready Nation key messages in outreach activities; and
Providing incentives to constituents and stakeholders to become more resilient.
In return, NOAA will support OU SCAN's efforts and provide resources in support of the Weather-Ready Nation Ambassador initiative. Read more about the initiative here: "https://www.weather.gov/wrn/"
OU SCAN would like to thank Treasurer Aspen Endriss for her work in making this initiative become a reality for OU SCAN.
Weather-Ready Nation Ambassador™ and the Weather-Ready Nation Ambassador™ logo are trademarks of the U.S. Department of Commerce, National Oceanic and Atmospheric Administration (NOAA), used with permission.
Archived Meeting Minutes
Here you can find an archive of all the OU SCAN meeting minutes from prior years.