September Officer's Meeting Minutes
September 4, 2018
To begin we went around to address our names and positions on the board. Next we discussed finding a co-advisor to help out Dr. Kloesel, especially because soon he won't be able to be our advisor since he is not a SoM professor. Names brought up were: Dr. Homeyer, Dr. Salesky, and Dr. Parsons. Next board meeting we are set to vote on this after Tyler and Jordan see if any of these three are interested. Emily is going to put information about outreach (and the Weather Friends) on the website soon, as well as everyone's bios. The board feels that recruiting could be better, especially with Freshmen. Connor Bruce had the idea to put the SCAN logo and fliers on the televisions across SoM, specifically trying to target upperclassmen who have fallen out of touch with SCAN. We have to get out there who we are and why it's worth joining SCAN. Basically we have to sell ourselves to everyone. Jordan and Nash could record some short videos to talk about who we are for the website, like a promo video. Nash needs to be brought into this plan. Jenna, Tyler, Jordan, and Aspen need to check the mailbox this week. Last week's meeting went really well. We collected about $1000 worth of dues and t-shirt sales. We have 41 dues-paying members, and we are hoping to increase those numbers for our meeting in September as the beginning of the semester crazies start to die down. Speaking of our next meeting, it will be next Tuesday, Sept. 11 at 6:30 pm, but officers should be there by 6 pm. Regarding our food situation, we are getting Billy Sim's BBQ. We are thinking about Panda Express for October, but this idea is up for discussion as that meeting grows closer. Aspen will be ordering from Billy Sim's tomorrow morning, and Tyler will be picking it up next Tuesday with Aspen at 5:45 pm. The meeting is in 1350 again, which will be thoroughly shared across socials and made clear that in order for people to eat the BBQ they have to pay dues. We lost one speaker for next week, so we are seeking out a replacement but if not we will only have 2. This must be made clear to our members in the fliers that this is a COMMUNICATIONS workshop, and NOT a Broadcast workshop. Our first social event for the Iowa State game is being worked out with Hey Day for about $8 per person if we have about 40 people in which we will cover the expenses if our budget is accepted by SGA (Aspen will be talking to SGA on Friday). Additional food and alcohol will not be included in the $8-ish price. Jordan will be talking to Hey Day tomorrow, but our backup plan will be here at the NWC in one of the rooms like 1313 or 1350. Other social event ideas: Elevation and Sooner Lanes. Now, ideas for the next General Meeting (October): Radar oriented, engineering. Because of this, we are leaning towards hosting a radar panel for our general meeting on October 9. Everyone who had an idea for panel members will speak to their perspective recommendations. List: NSSL co-workers of Emily's, Biggerstaff, Addison, Joey Picca SPC, Rich Mernand, CIMMS radar researchers, David Bodine, and Jessica Ryule. For reference this meeting is Oct. 9 at 6:30pm. The officer's meeting will be on Oct. 2. National Weather Festival: we need coordinators (Alexis and Connor?). Both freshmen reps are interested in coordinating, Emily can help, and Connor can outreach to the sophomores. SCAN's table also needs people to work it to sell merchandise. The table will be covered in 2-hour shifts, with only 2 shifts, minus the officers that are Weather Friends. Outreach will be having a meeting before the Weather Fest, so join the GroupMe to get Elizabeth's info. Emily's contact Emma Kuster from the South Central Climate Adaptation Science Center would be interested in speaking. We are looking into the November meeting as a potential time for her presentation. Overall, our main focus is the meeting next week! See you all at 6pm next Tuesday.
OU SCAN Becomes NOAA Weather-Ready Nation Ambassador™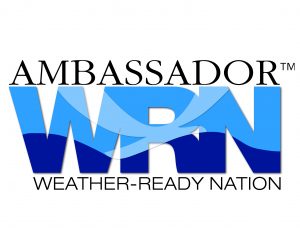 July 19, 2018
OU SCAN is proud to announce that we've been accepted as an NOAA (National Oceanic and Atmospheric Administration) Weather-Ready Nation Ambassador™.
The Weather-Ready Nation Ambassador initiative is an effort to formally recognize NOAA partners who are improving the nation's readiness against extreme weather, water, and climate events. As a Weather-Ready Nation Ambassador, OU SCAN is committing to work with NOAA and other Ambassadors to strengthen national resilience against extreme weather.
As an Ambassador, OU SCAN will serve as change agents and leaders within its organization. We will inspire others to be better informed and prepared, thus helping to minimize, mitigate, or avoid the impacts of natural disasters. WRN Ambassadors can encourage these changes in their organization in a number of ways, including:
Setting an example by becoming "weather-ready" yourself (e.g., making employee preparedness a priority and having a disaster plan);
Promoting Weather-Ready Nation key messages in outreach activities; and
Providing incentives to constituents and stakeholders to become more resilient.
In return, NOAA will support OU SCAN's efforts and provide resources in support of the Weather-Ready Nation Ambassador initiative. Read more about the initiative here: "https://www.weather.gov/wrn/"
OU SCAN would like to thank Treasurer Aspen Endriss for her work in making this initiative become a reality for OU SCAN.
Weather-Ready Nation Ambassador™ and the Weather-Ready Nation Ambassador™ logo are trademarks of the U.S. Department of Commerce, National Oceanic and Atmospheric Administration (NOAA), used with permission.
Archived Meeting Minutes
Here you can find an archive of all the OU SCAN meeting minutes from prior years.