Big Event
Every spring, over 6,000 students, faculty, and staff are spread throughout Norman and Oklahoma City for a day of service.  For seventeen years now, students have spent a day giving back to the community by completing service projects that can include cleaning, painting, repairing/installing fences, landscaping, and much more. This year, over 30 School of Meteorology students helped families in a neighborhood in Oklahoma City by cleaning up trash, raking leaves, and fixing fences.
For more information about Big Event, please visit the OU Big Event website.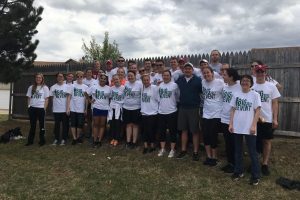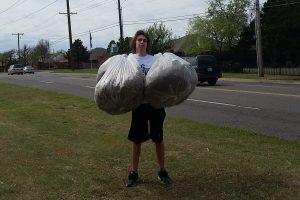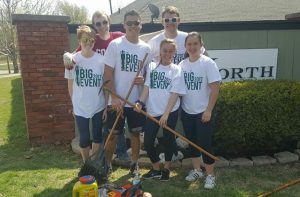 National Weather Festival
The annual National Weather Festival highlights the many weather-related organizations and activities in central Oklahoma. Visitors can view the National Weather Center's premier facilities, including National Weather Service forecast operation areas. This unique event features hourly weather balloon launches with local TV meteorologists, emergency response vehicle and equipment displays, children's activities, weather superheroes – the "Weather Friends", and weather-related information and products.
This year, we set a record with 80+ School of Meteorology student volunteers at the National Weather Festival, assisting with parking, directing visitors, selling merchandise, and more. Some were even dressed as Weather Friends! These superheroes talked about severe weather safety with visitors and handed out trading cards!
For more information about the National Weather Festival, please visit the NWF website.